2017 will be definitely a year to remember. Here's a quick overview of the year's biggest sporting moments.
No.10 – England's U-17 World Cup Win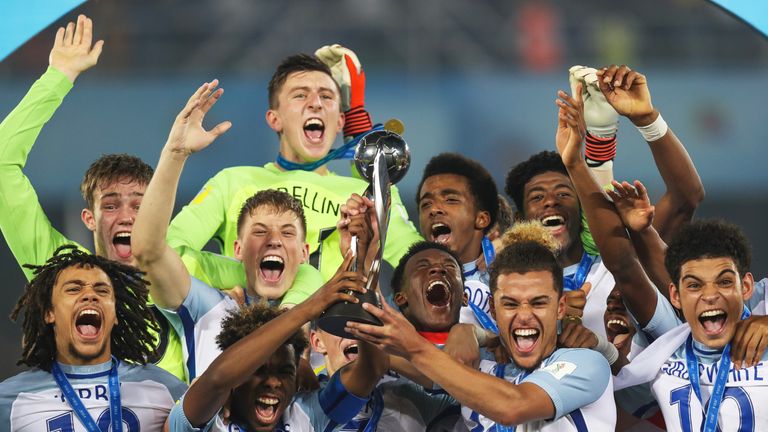 England Squad celebrate World Cup (source: Sky Sports) 
This Under 17 World Cup win capped what was an exceptionally successful year for England's junior international squads. 2017 witnessed the Under 19 and Under 20 squads secure a European Championship and World Cup, respectively. The U-17 final saw England comeback from 2-0 down against Spain, to then go on and secure an outstanding 5-2 victory. These boys are still young and have a lot of developing to go through; physically and emotionally. However, this victory offers England hope for a brighter footballing future.
No.9 – Golden State's Victory, Kevin Durant's legacy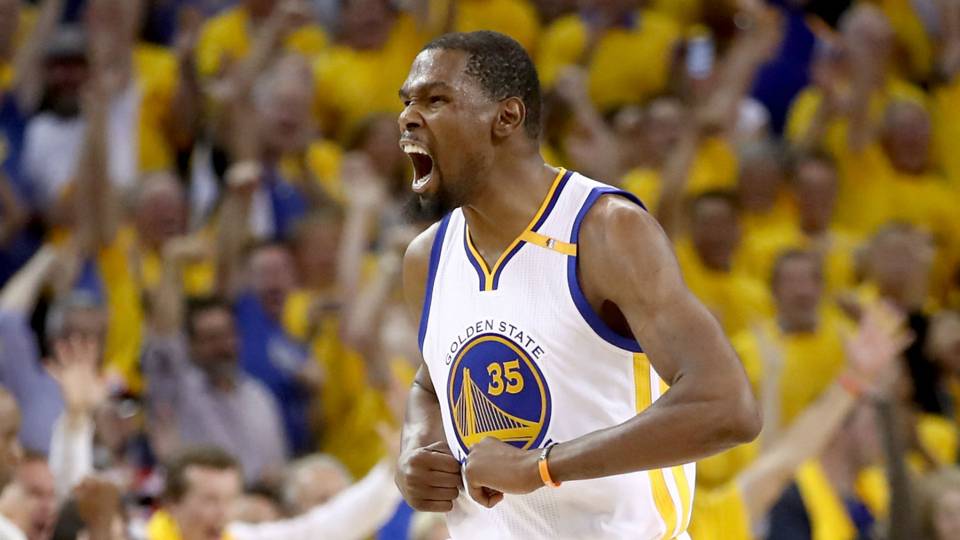 Kevin Durant roars in victory as the Warriors triumph over the Cleveland Cavaliers (source: Getty Images) 
Kevin Durant managed to fulfil a life-long dream by leading the Golden State Warriors to victory against the Cleveland Cavaliers. Five years ago, Durant faced Lebron James in what was his first NBA final. At that time, Oklahoma City Thunder lost 4-1 in the series, to James and the Miami Heat. This year the tables turned, Durant and the Warriors went on to secure a convincing 4-1 win in the NBA finals series. In the final game, Durant scored 39 points and acquired the coveted NBA final MVP title.
No.8 – Real Madrid's Champions' League Masterclass
Cool under pressure. Ronaldo and his teammates celebrate after he scored the game's first goal (Source: David Ramos/Getty Images)  
Goals.Goals.Goals. And more goals.
This champions league final in Milan witnessed 5 goals, as Real Madrid went on to secure twelfth Champions' League title in scintillating style. Madrid went on to trounce Juventus, ending the tie at 4-1. Once again, Cristiano Ronaldo stole the show by scoring two goals. His 2016/17 seasonal performance, bolstered the argument for why he should be recognised as the best player of all time. As the man said himself , ''People won't be able to criticise me because the numbers don't lie''.
No.7 – Super Bowl LI: Atlanta's Blunder
Patriots celebrate after completing an unbelievable comeback in overtime. (Source: Timothy A. Clary/Getty Images)
It's safe to say, that the Atlanta Falcons blew it. Super Bowl LI marked a golden opportunity for the Falcons to clinch their first super bowl, and gain greater relevance in the NFL. Instead, the Falcons relinquished as 28-3 lead, late in the third quarter. On one hand, the Patriots' comeback should be credited to Tom Brady. His ability to stay composed and make those plays in an exceptionally short time frame was very impressive. However, it was Atlanta's title to lose.They say that sport is cruel. If you are an Atlanta Falcons fan, this series of events that unfolded in this year's super bowl was brutal.
No. 6 – Neymar's Move to Paris
Thus far Neymar has lived up to his price tag. (Source: Reuters) 
The £200 Million Move. Crazy, I know. The 25-year old moved from Barcelona to Paris Saint-Germain (PSG), in what was a world-record breaking transfer fee. The French Newspaper Le Parisien stated that he was set to earn £540,000 per week. The move had some news outlets question whether this was a display of Qatari 'soft power'. Currently, the club is owned by Qatar Sports Investments. A closed shareholder company based in Doha. As host of the 2022 World Cup, Qatar has been looking to boost its national image. Good press for PSG essentially equates to a more positive outlook on Qatar. I guess purchasing Neymar was not a bad move. But what happened to FIFA's financial fair play?
No. 5 – Lewis Hamilton's F1 Glory
4 World titles. Not bad Lewis, not bad at all. (Source: Scott Etherington/LAT Images) 
At the Mexican GP in October 2017, Hamilton added a fabulous fourth world title to his name. Lewis' achievement made him undoubtedly Britain's most successful F1 driver. He managed to bounce back from a disastrous first lap, where he suffered a punctured tyre. However, he recovered finishing ninth, which secured him another F1 World Championship. With 62 career wins, he ranks second on the all-time list, behind the great Michael Schumacher. Aged 32, Lewis Hamilton needs 4 more world titles to surpass Schumacher's leading tally. At the rate Hamilton has acquired his previous championships, that goal is within reach.
No.4 – Gatlin silences London
Gatlin silences London, defeating Coleman & Bolt, in what was a thrilling 100m final. ( source: e247mag.com) 
Justin Gatlin's win against Christian Coleman and Usain Bolt, maybe one of sport's greatest displays of mental fortitude. Booed by 60,000 fans in the London Stadium, Gatlin went on to silence the crowd, by snatching his second world title. Defeating a legendary track star and staying one step ahead of an emerging new talent. The two-time drug ban veteran has received an unfair share amount of criticism, in regards to his past. More recently, he was embroiled in new doping allegations. His coach is alleged to have offered performance-enhancing drugs to an undercover reporter. In response, Gatlin stated that he was 'shocked and surprised…I am not using PEDs. I fired him as soon as I found out'. Whatever you think of Gatlin, one thing is for certain. He's one of the most resilient competitors in sports. 
No.3 – Mayweather vs. McGregor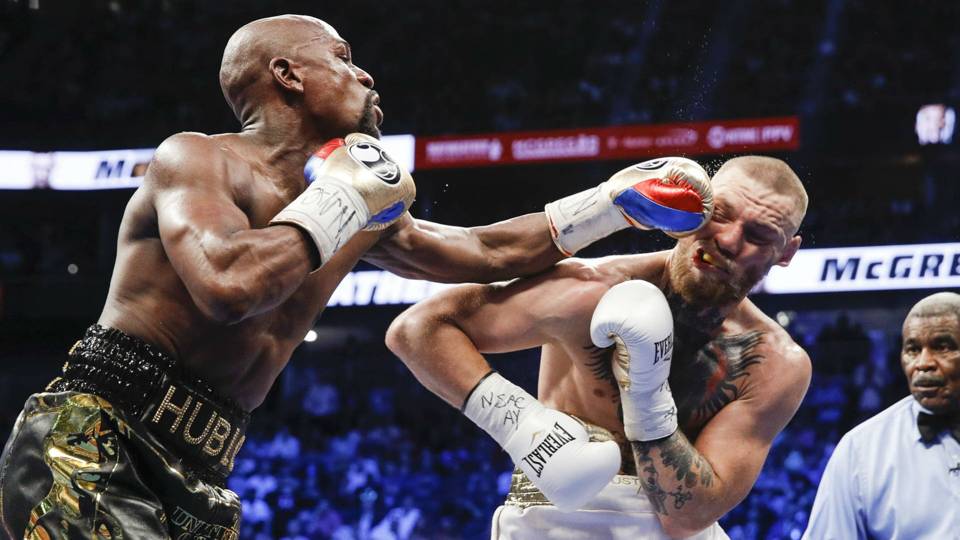 Mayweather dominated McGregor from start to finish. (Source: Esther Lin/Showtime)
The two titans of the fighting world clashed in August 2017, in what was the most expensive bout of all-time. The best defensive boxer ever went toe-to-toe, with one of the UFC's most exciting fighters. It was rumoured that Floyd Mayweather would receive a payday in excess of $400 million. Whilst, Conor Mcgregor was set to make a $100 million. The fight ended with a 10th round TKO, as Mayweather handed Mcgregor his first professional boxing loss. Floyd stayed composed and increasingly dominated his opponent, as the fight went on. In terms of legacies, Floyd Mayweather is one of the very few fighters to retire with an untarnished record. 50 fights and no defeats. It is not hard to see why he is 'TBE' (The Best Ever).
No.2 – Serena Williams' Pregnant Grand Slam Victory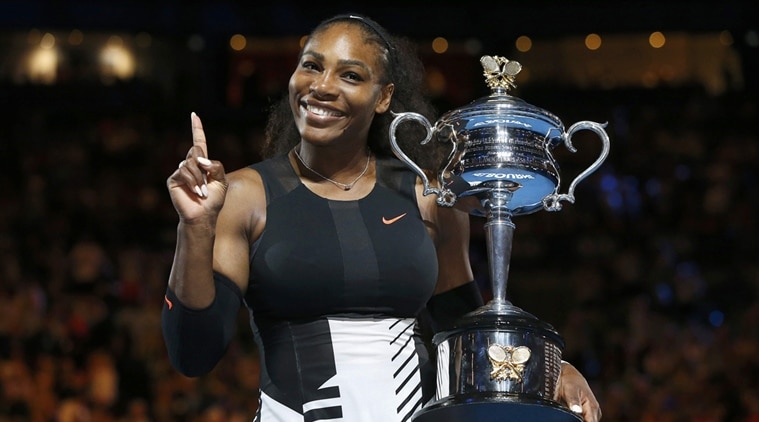 Serena William won the 2017 Australian Open whilst pregnant (Source: Reuters)
Serena Williams managed to earn her 23rd Grand Slam Title, without dropping a set, whilst in her first trimester of pregnancy. The 35-Year Old had to deal with the sweltering conditions of the Australian heat. Furthermore, she also battled with the emotional stress of playing against her big sister. Although not the first female athlete to compete whilst pregnant, she is definitely the most prominent. Her achievement also serves as a reminder of how tenacious the female body can be. Let it be known, that Serena Williams cemented her legacy as one of the greatest athletes of time, in 2017.
No.1 – Colin Kaepernick's Protest
(source: Thearon W. Henderson/Getty Images)
The man that tapped into the consciousness of sport. His positive influence on 2017 is unrivalled to any sports star and arguably any global politician. Kaepernick's protest against police brutality and institutional racism ignited a movement of solidarity across the NFL. More importantly, it reminded western society that our notions of 'equality' are far from where they need to be.

Munya J. Raradza
Munya J. Raradza was born in England and is of Zimbabwean descent. A big sports fan, Munya is also a track athlete who has competed internationally. Including winning national titles at a junior and collegiate level. A history graduate of the University of Birmingham, Munya has always had a strong passion for writing. Currently, he is an editor for TCS who aims to provide engaging news, with a dash of critical thought. Follow Munya on twitter @JayRaradza.
---