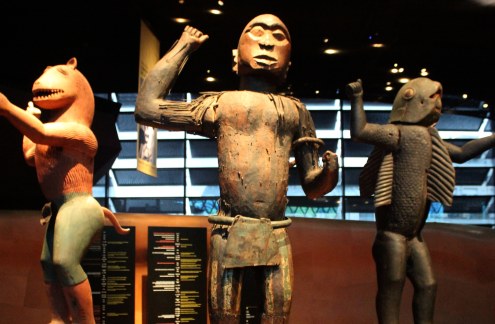 Benin's President Patrice Talon is due to conduct his inaugural state visit to France. Whilst he is there he will press the French President, Emmanuel Macron, on the topic of France and the repatriation of Benin art and artefacts, stolen during the annexation of Benin in the late 19th century.
The 5,000 pieces of art in question – ranging from ivory carvings, metalwork and appliqué cloth – date back to the era of the Dahomey Kingdom. The kingdom, in modern-day Southern Benin, was a prosperous trading nation along the West coast of Africa. This was until the colonial war that put them at loggerheads with France.
The very fact that Benin has to broach this subject is tragically emblematic of the nature of the relationships that African nations have endured for the past half millennium.
Benin has initiated the charge, however. If this action serves as the catalyst for a wave of former colonies to demand their cultural and artistic wares from the former colonial powers then that in itself is a victory.
Do not underestimate the significance of these artefacts. To colonise is to strip a population of its identity and its culture. A country cannot claim to be decolonised if it has no agency over its cultural wares. The daughter of former President of Benin and President of the Zinsou foundation, Marie-Cecile Zinsou, put it best:  "The question is to give back what has been stolen during the worst conditions of war… it's very small for France, but for us it's everything. We have nothing left in Benin — we have copies, but no original trace of our history."
The Quai Branly Museum in France is where most of France's colonial-era loot is situated. The museum said they would be open to repatriation of the artefacts provided there was the political will to do so.
However, Quai Branly's president, Stephane Martin also went on to say "we don't return objects just to heal wounds" in an interview with Paris Match magazine. "The people who receive them must have a real desire to do something with them."
We are barely two months into the new year yet in the remaining ten you'd be hard pressed to find a more sanctimonious quote trotted out as brazenly as Mr Martin's. There seems to be confusion over the permanence of the status of stolen items. Apparently after a certain period of time they cease to count as stolen. Maybe the French know something we do not.
There are those that argue African countries such as Benin do not possess the infrastructure to house such fragile pieces of art. It's difficult to interpret that stance as anything other than mere excuses, with the hope discrediting the claim of the Benin government.
More understandably, many will say the removal of the objects in question took place a considerable few years ago, and that the art pieces have since solidified their places on the French art scene. Perhaps those people are right. Perhaps the Benin government could broker a deal that would see the artefacts lent to the French institutions. It happens in the museum scene all the time.
This is about the principle, however. Western culture and western politics are intertwined. The political class in the West cannot claim to respect African nations as sovereign equals when their very reasonable requests are treated with complete contempt, and in some cases downright ignored. Furthermore, France, the home of the French revolution, should know better than anyone the importance of property rights. To deprive Benin of their property rights is hypocrisy at best and unchecked greed at worst.
The Nigerian government has been taking the lead for the Anglophone West African nations with regard to pressing for items of cultural significance to be returned. The Nigerians have come to learn that 'quiet diplomacy' does not get you very far at all and is taking a more hardline approach.
Hopefully, Benin will not need to do the same as Macron has proselytised his support for repatriation during a visit to Bukina Faso in November last year, where he stated "African heritage can't just be in European private collections and museums… African heritage must be highlighted in Paris, but also in Dakar, in Lagos, in Cotonou." Arguably, however, even this sentiment misses the point. This matter does not pertain to possessing trophies to have on display but rather to have in our possession what our ancestors created to celebrate us.
We shall soon see if France sticks to this position, and if so whether it forces the other colonial powers to consider their stewardship of stolen African art. It may be the case that the Benin government will be forced to yell a little louder than it has already. If yelling is what it takes to be heard then so be it.

---