On Friday 15th November, around 100 University of Bolton students were evacuated from accommodation block The Cube in Bradshawgate, Bolton at 8:30pm after a fire began tearing into the top floors of the six story building. Two people were injured in the fire and were treated by paramedics at the scene.
This was a case in which no one was fatally injured but there are serious question marks around the actions being taken to secure the fire safety of high rise apartment blocks.
Cladding placed on the Grenfell Tower was the primary cause of the spread of the 2017 fire which traumatized the nation killing 72 people. While the incident did prompt a response that saw a government fund of £200million launched to replace cladding on high rise buildings, Friday night's events beg the question of whether lessons have really been learned.
Documents published by the fire service show the building was inspected in July 2017 – after the Grenfell disaster – and received a 'Notification of Deficiencies.' Whilst some residents reported not even hearing the fire alarms, others reported that they ignored the alarm because "it goes off all the time." Residents only realised there was a fire when they began to smell smoke and overheard screaming of other people. 
Government responding too slowly
Prior to Grenfell, in 2016, Urban Student Life (USL) that owns and operates The Cube as well as student accommodations in 10 other locations, was criticised in an NUS tribunal ruling for not providing clear guidelines on fire safety procedures or providing fire safety notices in one of its student accommodation blocks in Leeds. Recently Shelly Asquith, the then NUS Vice President for Welfare fundamental tweeted to say "suspension is very rare and serious questions now need asking as to how USL can continue to operate".
This led to USL being suspended for a year from the Code for Non-Educational Establishments by the Codes Full Tribunal and the building to be closed with immediate effect. Following the tribunal's ruling, Leeds City Council sent the Fire Authority to inspect the building and found that it still was not fit for use.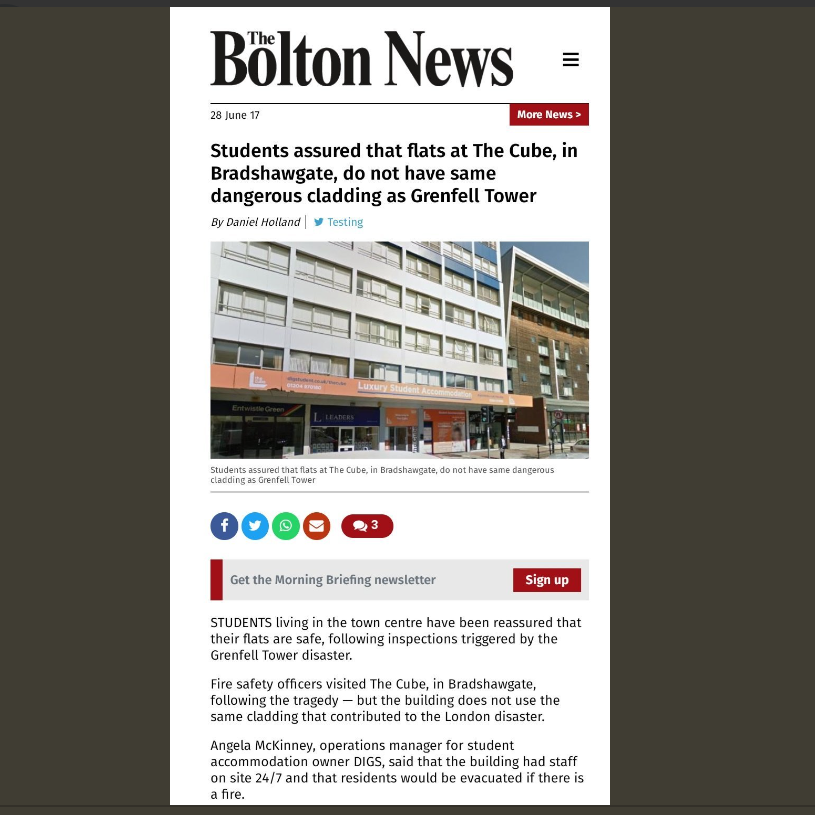 The Bolton News reported in 2017 that the cladding on The Cube flats was safe and not the same as that used on Grenfell. While this is true, as HPL (high-pressure laminate) was used on The Cube rather than the ACM cladding on Grenfell Tower, MP's had raised concerns over the dangers of HPL earlier this year. Housing ministers were aware of the danger and had refused to intervene to remove it.
Lord Younger, Under Secretary of State for Ministry of Housing and Local Government acknowledged in a letter to then MP Angela Smith in September said the safest form of HPL was resistant to fire, but added: "Systems using other types of HPL are unlikely to resist the spread of fire, as are systems using any type of HPL with a combustible insulation." Witnesses from the night reported flames travelling quickly up the outside of cladding "like it was nothing". Younger also stated the government would not fund the removal of HPL cladding despite the evident dangers. Earlier this year in August 2019, Kingfisher Court, a student accommodation in West Yorkshire, was evacuated over fears of fire safety due to cladding on the tower block. This evacuation came a year after concerns were raised around the fire safety of the building.
These incidents only draw more confusion and embarrassment around fire safety systems in the UK and actions by the government to ensure private building owners make the necessary improvements. Many residents are living in buildings that are essentially ticking time bombs. The Grenfell disaster showed us this explicitly, and the Bolton fire is another painful reminder that this issue is still not under control.
There are 436 high-rise buildings in England with cladding similar to that of Grenfell. Of these, only 118 have completed remediation works to remove and replace ACM cladding. There's more evidence to suggest that the government is being too slow with what can only be described as future life saving work. Lord Younger also stated a data collection exercise on cladding of high-rises would not be completed until March 2020. The Bolton block would not have been included as it is less than 18m high. Critics have stated that the government should be taking ultimate responsibility for the safeguarding of it's citizens ensuring private landlords are abiding by regulations. Labour's shadow Housing Secretary John Healey also stated that councils should be given powers to take over blocks and carry out the work themselves. This would implement a national standard across the board.
Is the government the only guilty party?
Of the privately-owned buildings with cladding, only 15 of 184 buildings have completed remediation. This is a serious issue of a lack of action from private building owners. Although some are eligible to apply for the government funding, for those who are not, apartment developers, leaseholders and freeholders battle to determine who should cover the cost, with the government consistently laying the responsibility squarely at the feet of private owners.
Some privately owned buildings can apply to the £200million government fund set aside to remove and replace cladding but since applications opened in September 2019, only 14 applications have been submitted.
Replacing dangerous cladding in high rise buildings is both an urgent and extremely extensive process that involves cooperation between various organizational bodies. Action (or lack thereof) in the coming years to correct fire safety systems in the UK will be the true test of whether lessons have been learned post, Grenfell.