A Kind of People is a remarkably composed piece of theatre, providing a relevant commentary on the affairs of race and class in multicultural Britain.
The audience are introduced to the tightly-knit friendship group, concentrated on the lives of the inter-racial relationship of Gary and Nicky, portrayed on stage by Richie Campbell and Claire-Louise Cordwell. Gary is black, and Nicky is white; they are both working-class. We experience their diverse personal community including a British Pakistani couple, Gary's sister Karen and also his best friend Mark. 
As the play progresses, this tightly-knit family is unravelled and unweaved, exposing the complex attitudes to race, class and relationships, prevalent in contemporary Britain. This unravelling begins following Victoria's, (Gary's manager) intrusion into his birthday celebrations. After attempting (and failing) to keep up with the group's dance to Cameo's classic, Candy, Victoria finds companionship in a bottle of wine, becoming brazenly drunk. She begs Gary to show her how to dance like a black woman, whilst twerking and singing Missy Elliot's "Get Ur Freak On" – complete with all expletives, the N word inclusive.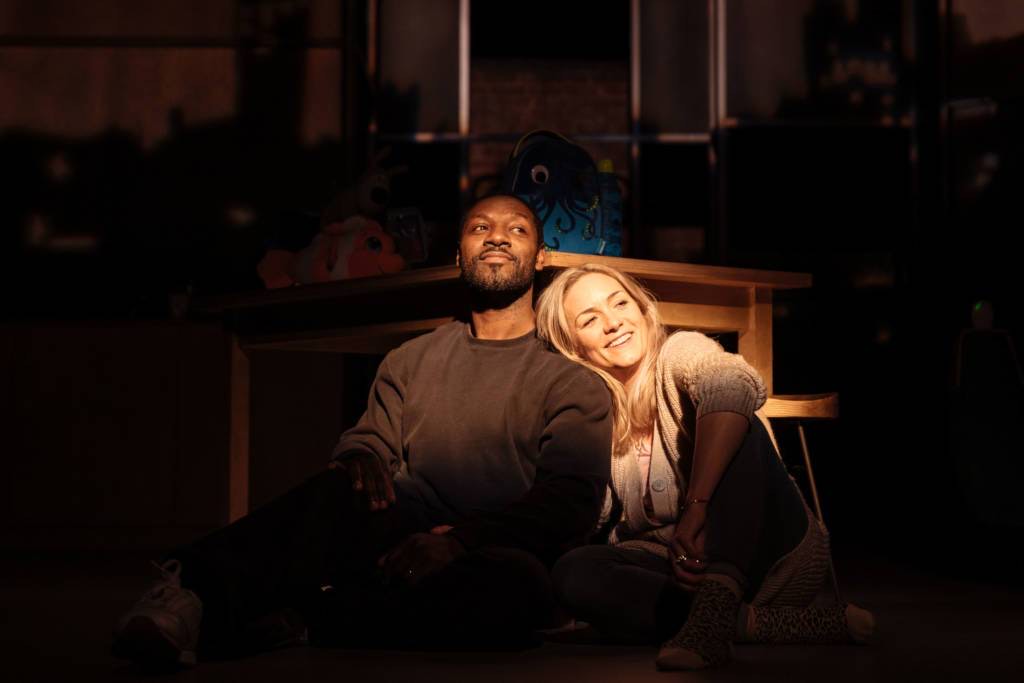 There is a real sobering element to this moment, both due to the abrupt halt to a jovial scene, and the fact that this isn't that far from reality. Head to a hip-hop event on a Saturday night in Clapham Common – and you'll experience the same comfortable use of the N word under the guise of "it's the lyrics(!)". Gurpreet Kaur Bhatti has an incredible ability to capture and convey the outrageously subtle racial microaggressions that people of colour often encounter everyday. Though, not all are as extreme as Amy Morgan blurting out the N word, they arguably carry similar weight. 
Bhatti's written prose carries elements of extraordinary depth, both within her characterisation and relationships. Richie Campbell's portrayal of Gary is complex. He is prideful and the staple of strength within his relationship, even from it's early days. "Keep watching and one day the city will be ours", he naively says in their youth. Yet, he is also lost. When he encounters discrimination in the workplace, it is as though he only then develops awareness of the colour of his skin – which is far from the reality that most people of colour experience. Equally, Nicky and Gary's marriage is written beautifully. It is raw, honest and above all – real. Accompanied with Talawa's artistic director, Michael Buffong's direction, their on-stage relationship is a ying-yang inspired balance between hopeful and hopeless, unity and difference. 
However, the play falls short in certain places, namely towards the second half. The opening of the play is powerful. It's like you've joined in on this cosy party, and whilst your nodding along unsuspected to Missy Elliot, you're suddenly slapped round the face by unprovoked racism. After that moment, the play is expected to demonstrate a really poignant take. It doesn't. You're so distracted by the shock-factor of previous events, that you don't really consider how far the conversation really goes. The inclusion of best friend Mark's sudden infatuation with Nicky is entirely out of place, as though it was thrown in to extend this shock factor

Furthermore, the hysterical breakdown which follows the removal of the couple's kids was a little painful to watch. The initially gut-wrenching scene, quickly turned into a melodramatic 'wail'-off between Campbell and Cordwell. Also, soon after her outburst, the character of Victoria falls flat. She quickly becomes an infuriating archetype of the white female victim trope. You can't help but roll your eyes at her convenient tears, used to manipulate the situation and avoid accountability. It could be said this abrupt glossing over of any in-depth reflection on the subject matter is reflective of the way the UK deals with racism. Though, it's more likely it was slightly overlooked. 
In some ways, A Kind of People barely scratched the surface in its exploration of race and relationships. However, in light of recent socio-political events, A Kind of People is needed. The play is a carefully measured antidote aimed directly at ignorance, which is exactly what the UK needs right now. 
It also embodies the notion that racism doesn't always come in expletive, violent and physical outbursts. It doesn't always scream in the face of it's victim. Sometimes, it is carefully gift-wrapped in micro-aggressions, entitled ignorance and job rejections. If you blink, you might miss it.